COMPANY PROFILE
Tong Shen has been one of the leading cyanoacrylate adhesive manufactures in the world for decades. We have been proudly presenting our quality products, innovative technology and ever upgrading R&D team to all the business partners inland and overseas. Through these partners' satisfaction and recognition, Tong Shen's second factory was successfully installed in 1999. The development of expansion has never stopped due that market demands are getting larger and larger every day.
Attempting to make EVOBOND the synonym of superexcellence, Tong Shen has been devoting all the enterprising spirit to the fields of cyanoacrylate adhesive. Tong Shen provides a broad rang of cyanoacrylate adhesives, covering the whole industry and consumer markets. Tong Shen also serves delicate blister packs for DIY and Beauty & Hobby applications. Tong Shen's professional R&D chemists and engineers will as usual strive to keep EVOBOND to be renowned for the reliable and innovative products.
YEAR

EVENTS

1974-1984

IN TAIWAN:PVC STABILIZER MANUFACTURING AND IMPORT.

1985-1998

IN TAIWAN:ETHYL CYANOACRYLATE MANUFACTURING FROM 120 TO 600 M/T ANNUALLY.

1999-2000

INSTALL THE SECOND FACTORY IN CHINA. CAPACITY 900 M/T IN CHINA, 600 M/T IN TAIWAN,TOTAL 1500 M/T ANNUALLY.

2000-2001

INSTALL 8 BLOW MOLDING MACHINES AND 4 INJECTION MOLDING MACHINES. SUCCESSFUL DEVELOPMENT OF GEL CA, BLACK RUBBER TOUGHNESS CA, PINK CA.

2001-2002

INSTALL 2 ALUMINUM TUBE MANUFACTURING & PRINTING MACHINES. SUCCESSFUL DEVELOPMENT OF BUTYL, ISO- OCTYL,CYANOCRYLATE AND NAIL GLUE. ISO 9001 CERTIFICATE.

2003

SUCCESSFUL DEVELOPMENT OF METHYL, ISOPROPYL, METHYL ETHYL, ETHOXY ETHYL CYANOACRYLATE, ANAEROBIC ADHESIVE, EPOXY ADHESIVE, PUTTY STICK.

2004

INSTALL THE SECOND PRODUCTION LINE IN CHINA.ANNUAL CAPACITY: 1800 M/T IN CHINA, 600 M/T IN TAIWAN.TOTAL 2400 M/T. INSTALL 7 BLOW MOLDING MACHINES AND 3 INJECTION MOLDING MACHINES.

2005

SUCCESSFUL DEVELOPMENT OF N-OCTYL2-OCTYL,ISO- BUTYL,N-BUTYL MEDICAL GRADE CYANOACRYLATE.
INSTALL EVOTITE PRODUCT SPECIALLY FOR ELECTRONIC INDUSTRY.

2006

ANAEROBIC ADHESIVE MANUFACTURING AND SUCCESSFUL DDEVELOPMENT OF UV ADHESIVE. START TO APPLY THE PATENT THAT PREPARATION METHODS FOR CYANOCRYLATE DRUG-LOADED NANOPARTICLES.

2007-2008

INSTALL THE THIRD PRODUCTION LINE IN CHINA, ANNUAL CAPACITY:2700 M/T CHINA, 600M/T IN TAIWAN, TOTAL3300M/T.

2009

DEBOTTLE-NECKING PRODUCTION CAPACITY, INSTALLATION OF AUTOMATIC PACKING. MACHINES.EVOBOND OBTAND THE" GUANGDONG FAMOUS BEAND".

2010

INSTALL THE FOURTH PRODUCTION LINE IN CHINA. ANNUALY CAPACITY 3600 M/T IN CHINA,600M/T IN TAIWAN,TOTAL 4200M/T.

2011

SUCCESSFUL DEVELOPMENT OF HYDROQUINONE FREE (COSMETIC- GRADE CA).

2013-2014

PLAN TO ACHIEVE THE EXPANSION OF PRODUCTION LINES TO REACH ANNUAL CAPACITY 5500 M/T. BY 2015
INTELLECTUAL PROPERTY RIGHTS
The trademark "EVOBOND" has been registered in 80 countries all over the world and was also awarded as the "GUANGDONG PRESTIGIOUS BRAND".
Our product was tested by SGS inspection organization authority,the resulf Comply with the national & ROHS environmental protection standard.Passed Halogen, PFOA, PFOS, NP, PATS, Phthalates(16P),HQ, Mattel QSOP0006-3610, QSOP0006-3600, Methylene dichloride ,and Reach(SVHC 163).
We are committed to ensuring RoHS compliance in all our products at high Environmental Protection Standard.
We are also a REACH ready service provider.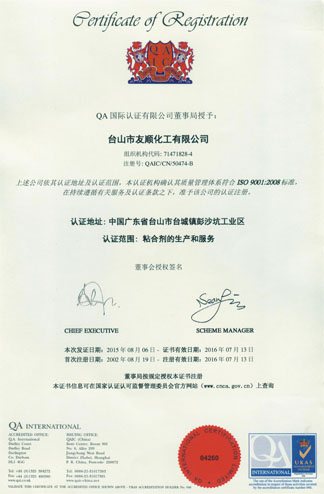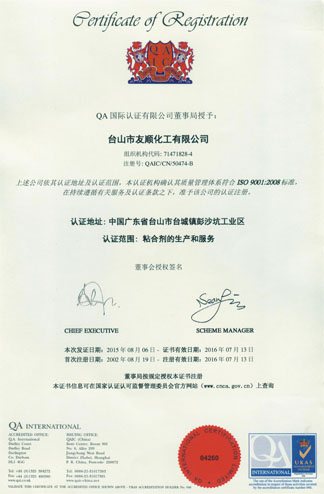 The sales network in domestic market The sales network in global market.